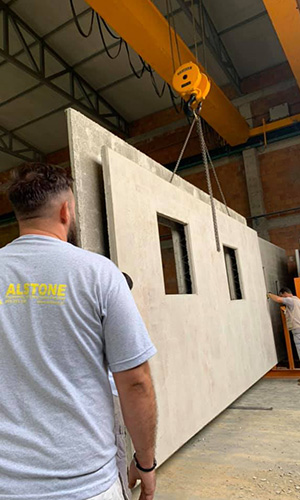 ALSTONE GROUP
With more than 20 years of experience, Alstone Group, a leader in the field of concrete production, design and construction, starts for the first time in Kosovo with the production of prefabricated concrete elements. Prefabricated building construction has many benefits, starting with the highest quality through production in the controlled environment of a prefabricated factory, up to the time saved at the construction site.
Connection technology also plays a fundamental role. Whether in transport or during the installation of prefabricated concrete elements, safety and reliability are paramount. Just as important as reliable bonding is the reinforcement technology in prefabricated concrete elements. We Alstone Group know the extent of our responsibility in the reinforcement and bonding technology industry.
We are aware that quality and performance are crucial. Not only that
includes the construction project itself. It also has to do with ensuring its security
all stakeholders at the construction site, and subsequent residents and visitors to the building.
We incorporate all the knowledge gained in the further development of our products
WHY CHOOSE A PREFABRICATED WALL?
Choosing a project based on prefabricated elements
of concrete, you will have the support and backing of our design office, to determine a total solution for: Concrete Walls, Insulation, Prefabricated Tiles etc. All of these will be addressed at the same time to ensure the simplest possible on-site management. The flexibility of production in our factory is such that there is no need for serial production: each element is produced according to your request.
EASIER, FAST, SAFE CONSTRUCTION.
The specific characteristics of your project are taken into account during the production of our products. In addition, you will manage to gain a higher quality than you would have if you were concreting on site. The use of prefabricated elements will also allow you to reduce your construction time: of course thanks to the quick installation, but also the reduction in the number of workers required, making its management much easier by the main contractor.
OUR PARTNERS AND COLLABORATORS